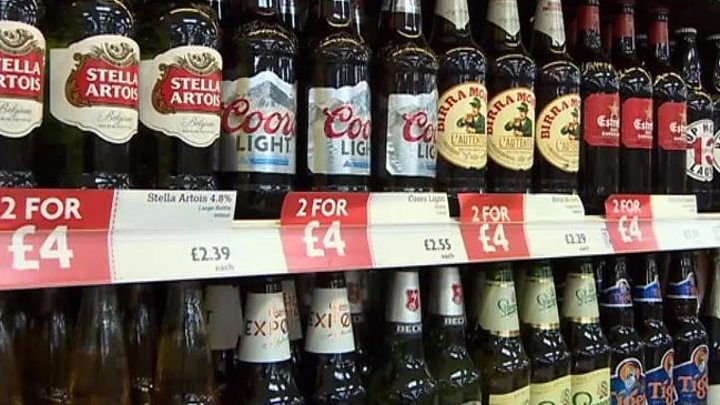 A decision on whether a plan to introduce minimum pricing for alcohol should go to the next stage is to be made by politicians in Wales later.
AMs will debate the proposal which has been suggested as a way of tackling harmful drinking.
Health Secretary Vaughan Gething said evidence from other countries showed a link between price and consumption.
He said minimum prices for alcohol was a "major new and important tool" in tackling harmful drinking in Wales.
But he warned minimum pricing would not work "in isolation" and promised and extra £1m for health boards to tackle substance misuse.
This is amid fears some alcoholics may switch to drugs if prices were increased.
AMs will decide later whether the Welsh Government's Public Health (Minimum Price for Alcohol) (Wales) Bill should pass its first stage and go on to detailed consideration by assembly committees.
If passed by the assembly later in 2018, the measure should take effect 12 months after the bill's royal assent.
"Wales, like so many other western countries, has a problem with cheap, strong, readily-available alcohol," Mr Gething said.
Echoing the findings of the assembly's health committee earlier in March, the minister said minimum pricing was "not a silver bullet" but would be "a major new and important tool in our approach to reducing alcohol consumption".
"By introducing a minimum price, we can make a difference – as we have done with the smoking ban – which demonstrated our determination to create a different future for the people of Wales.
"I've been very clear that it will not work in isolation. Alcohol policy in Wales requires a variety of approaches, which taken together, can generate change.
"That's why we are supporting people throughout Wales to develop a healthier relationship with alcohol, through our Substance Misuse Strategy and end the sad spectre of people dying from drink."
Staff at the Huggard Centre, a Cardiff-based homelessness charity, are among those who have raised concerns at the impact of minimum alcohol pricing on the most vulnerable people.
Chief executive Richard Edwards gave a warning in February, saying: "Raising pricing alone, for legal drugs such as alcohol, may simply change one addiction for another and condemn people to a more entrenched and desperate life on the streets."
The Welsh Government said it spent nearly £50m a year supporting people who misused substances.
Ring-fenced money for health boards to tackle the problem was being increased by nearly £1m to more than £18m.
Alcohol-related hospital admissions cost the NHS in Wales about £120m a year, the Welsh Government added, with 504 deaths in 2016.
UKIP Wales leader Neil Hamilton has expressed doubts about the effectiveness of a minimum unit price.
He wants to change the motion being debated in the Senedd on Tuesday to say the assembly "regrets that the Bill will not produce the desired positive health outcomes for the people of Wales and could have a detrimental impact on vulnerable sections of our communities".
A law allowing a minimum unit price for alcohol was passed in Scotland in 2012 and will be introduced later this year at a level of 50p per unit.